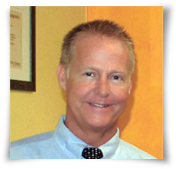 William English, DC
- Chiropractor/Owner
When Dr. William English embarked on his professional career as an engineer for Brown & Root Inc. he never imagined his path would lead him to a career in the healthcare field. But with the 90′s came a desire to reassess and make life changes. The result: he embarked on a path to take his personal commitment to health and wellness to a professional level. So, after completing his Bachelor of Science in Anatomy, he went on to complete his Doctor of Chiropractic degree at Parker College in Dallas, Texas.
Dr. English's post graduate studies have included Graston Technique, myofascial release and studying under Dr. James Chestnut, founder of the Wellness Practice where he was first exposed to his "eat well, move well, think well" philosophy. He has also taken his personal commitment to health and wellness to corporations, schools, organizations, and civic groups throughout the state of Texas with his "Ultimate Lifestyle Workshop". His workshop incorporates an interactive approach focused on providing the tools to move participants toward healthier, happier, stress-free lives.
As owner of Aloha Wellness, Dr. English has incorporated organizational and educational tools to compliment the excellent doctors and staff. He is committed to making each patient experience second to none.
Jennifer Dayton, LMT

- Massage Therapist, Chiropractic Assistant and Office Manager
After graduating high school, Jennifer moved to Austin, Texas, to study photojournalism. She liked photography, but it didn't fulfill her desire to directly improve the lives of others. At the beginning of 2012, she was inspired to study the art of massage therapy. In school she gravitated towards a corrective, healing approach to massage. She completed the 500-hour Texas massage therapy licensing program and graduated from Texas Healing Arts Institute in August 2012. Here at Aloha Wellness, she assists Dr. English with physical therapies and manages the office, in addition to providing massage therapy.
Want to find out more about Jennifer? Read on…