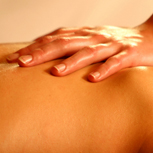 When your muscle's connective tissue thickens due to injury, tension, overuse or inactivity, it causes acute and chronic inflammation. Myofascial release therapy is a method of applying gentle pressure to reach, roll and stretch out muscles with the goal of loosening up deep connective tissues. This action helps eliminate pain and restore a patient's range of motion. The treatment is recommended for those suffering from fibromyalgia, chronic fatigue, slipped disks or back/ neck pain. Many patients who experience long term, chronic musculoskeletal problems and have visited many different practitioners without success have finally found relief with myofascial release therapy.
Myofascial release focuses on the treatment of points along the body called "Centers of Coordination" (known as Cc). While these points may not be at pain locations, these centers are responsible for normal muscle functions. By treating "Centers of Coordination", body & joint movement is restored in areas where there is limited motion. Over the course of a few clinic visits, pain is eliminated.
Aloha Wellness is one of the few centers in Austin to offer myofascial release, a leading edge technique. We have five practitioners currently undergoing professional certification for this unique, ground-breaking treatment. Myofascial training is based on soft tissue techniques developed by Dr. Luigi Stecco and Dr. Warren Hammer, two expert chiropractors with over 50 years international experience.
Benefits
Relieve acute and chronic pain
Release muscular tension
Increase blood circulation to injury area
Stimulate release of endorphins
Foster healing of soft-tissues
Myofascial release is a regenerative treatment sought out by both men and women to improve body movement and motor skill performance. Myofascial technique is an effective technique for most body regions including extremities.